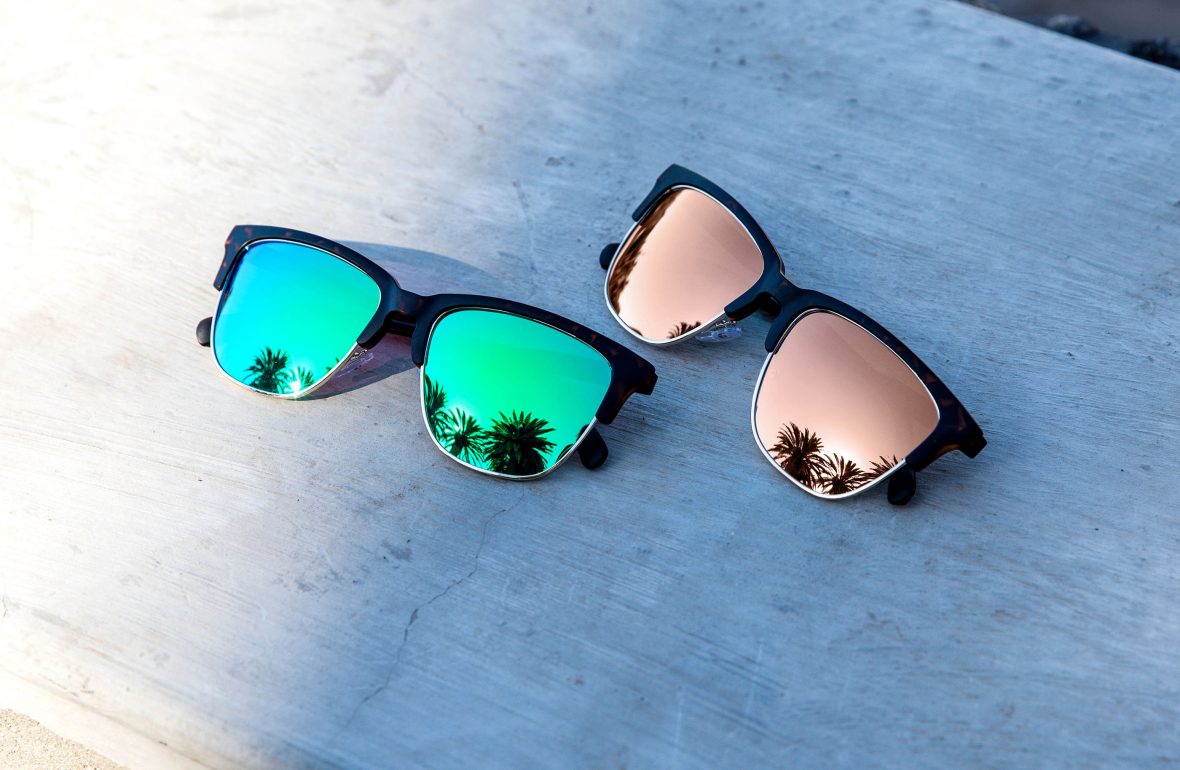 It's already four whole seasons ago that fashion bloggers, trendsetters and celebrities agreed to tell the world that mirror-effect sunglasses had arrived on the fashion scene. But when and where did they actually come from? Why does everyone want a pair? Do they have any special features?
Well, we're sorry to tell all you visionaries from the world of fashion out there – you weren't the first to love them. In fact, if we look back through old newspaper and magazine cuttings, we can see that elite athletes like cyclists and skiers were already using them more than 5 years ago.
Neither fashion bloggers nor influencers nor celebrities were the first ones to wear mirror-effect sunglasses.
So what actually are mirror-effect sunglasses?
This type of lens can be found in a myriad of models, but all share one particular feature – they're able to completely reflect light, acting as a mirror.
To choose the best sunglasses for you, you need to take into account the quality of the lenses; they are what protect your eyes from the sun's rays.  Without forgetting about quality, you'll find these types of glasses in all colours, shapes and sizes as they remain on trend for 2017. 
Why use this type of mirrored lens?
These lenses provide greater protection and reduce glare, so for that reason, they can be used in day-to-day life in the city just as much as for enjoying yourself in the great outdoors.

To get mirror-effect lenses in more unusual colours, various chemical procedures can be employed. This improves the quality of your vision and prevents eyestrain.
When to wear them?
Mirror-effect sunglasses are the ideal type to see while being seen. We know that you like to protect your eyes while continuing to follow your favourite fashion trends, so you're in luck, because they're 2017's must have.
If you want to be on trend and get the look that you've always wanted, grab a pair – if you haven't already.
If you go for a casual look every morning, you'll need some bohemian style roundframed glasses. You can easily combine them with basic t-shirts and baggy pants, allowing your sunglasses to take centre stage.
But if, on the other hand, you have a more classic style, then Aviator style glasses will be your friend, as they're very elegant, but also give a hugely personal touch to every one of your outfits.
Mirror-effect sunglasses with a more square shape and flat lenses are the perfect accessories for evenings spent down at the beach, creating an incredible effect when the sun and sea are reflected in your frames.
The most important thing when choosing glasses is always your comfort and protection. At SUNPERS, we love the mirrored effect and you'll find it applied to many of our models – Biarritz, San Francisco and Miami – in all their different versions. We know you'll find the look you love.
NO SUNPERS, NO SUN, NO SUMMER!